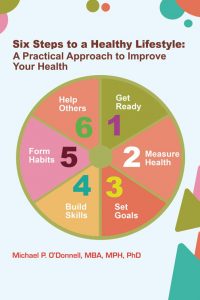 Changing your health habits is kind of a big deal. It takes time and focus. It can also produce benefits that can change your life. If you have a good plan, you can be more efficient and you can increase your likelihood of success. This book provides a framework for that plan and has six steps: Get Ready, Measure Your Health, Set Goals, Build Skills, Form Habits and Help Others.
By Michael P. O'Donnell, MBA, MPH, PhD
Six Steps to a Healthy Lifestyle

2.61 MB
Download
Downloading and Opening this file indicates your acceptance to abide by the terms of this agreement.
The text in this file are for use only for your business, please do not pass this on to others.
You are specifically restricted from all of the following
-publishing any of this material in any other media;
-selling, or otherwise commercializing any of this material;
-publicly performing and/or showing any of this material;
-using this material in any way that is or may be damaging to this Website.